Wow, June has been a crazy month. The #beapirate challenge 22 took place and 72 teams have created epic ideas and wild solutions to the global challenges we are facing. In our last blog post you already met this year's winner team: LOOP. Now, let's take a closer look on the other 6 innovative projects that made it to the finals: Pomelo, UMEED, IYASHI, Aidem, Check it! and Twinnovation.
Partly through online voting, partly through our partners and our mentors, these six innovative projects were selected. It was a close call, and so many other amazing projects and ideas were developed throughout these last weeks. You can check out all the ideas here. Well done everyone! We are so amazed by your creativity, your teamwork, and all the time and effort you have put in!
Meet the finalists from the #beapirate challenge 22
It hasn't been easy to select the finalists, but these are the projects that made it:
Pomelo – Using nano sensors to create the world's first internal blood test
👉🏼 Pomelo relies on the use of nanotechnology (more specifically, chemical nano sensors) to detect nutrition levels in the body. The miniature quality of this technology enables us to retrieve nutritional data from the human body without harm to the host.
Once swallowed, the nano sensor detects biomarkers in the blood (iron, calcium, etc) that standard blood tests use. The data is then sent securely to an app, where the user's nutrition levels (i.e. Vitamin D) can be read. If there are concerns about the results, the user may visit a doctor to determine further steps.
UMEED – Translating aspirations into conVRsations
👉🏼 People with pre-existing health conditions or economic backgrounds find it difficult to have access to health and jobs. Umeed works on an affordable and accessible virtual conversation therapy for people with speech disorders such as autism spectrum disorder or aphasia post-stroke. UMEED is a VR Game Using NLP and Latent Semantic Analysis for Conversation Therapy for Patients use a solid pipeline to achieve the result.
IYASHI – Heal your fear!
👉🏼 IYASHI – the Japanese word for 'healing'. As the name depicts, the main goal of IYASHI is mental well-being. Fear is a state of mind which holds us back many times, and sometimes we are unaware if it's our fear or something else. IYASHI aims to detect and overcome our fears by an AI-based device. The device has two parts: one for detection and second for relaxation and to reduce the fear and stress level. Our aim is to bring more peace, confidence and courage among people. Let's fight our fears together and bring a small change in this big world!

Aidem – Medical assistance available to everyone everywhere
👉🏼 Aidem is able to fly long distances using a small unmanned plane, which are assessing people's health conditions in remote areas by using video processing technology and transmitting the collected data to the medics. Aidem will help people with limited access to healthcare by delivering medicine and consulting with doctors. It will assist people in regions with low EMS reaction by arriving faster. In addition, Aidem can deliver vital drugs and medical appliances, and transport blood samples to a lab.
Check it! – Stop. Think. Check. Change the World.
👉🏼 Misinformation promoted across people's digital presence has had many consequences worldwide, in different areas including health and well-being, climate awareness and action, equality and inclusion. Check it! Is an innovative software based on computer thinking, artificial intelligence and machine learning that allows you to input any kind of written information and have it scored on its accuracy. The software compares your piece of information to a vast collection of words commonly used in misinformation articles, and through an advanced algorithm, gives your source a rating based on its medical accuracy. Check It! is more than just a fancy software – it is a free platform designed to fight misinformation.
Twinnovation – creating a world where the threat of leukemia is that of the common cold
👉🏼 By developing quantum dot (nanoscale crystal structures) bio-conjugates, Twinnovation is creating a drug delivery system beneficial for treating the highly specific cancer of chronic lymphocytic leukemia that has affected millions. Compound chemo drugs will be specifically targeted at the tumors and lessen the severity of the regular side effects of the common, ineffective chemotherapy, possibly even preventing the side effects altogether, something 27% of chemotherapy patients die from. Going through cancer treatment and chemotherapy is also often extremely hard on patients and families as people struggle from not only the cancer, but also the chemo side effects. Improving cancer treatments will also give the world a boost of hope overall as it is something we have been trying to fix for decades.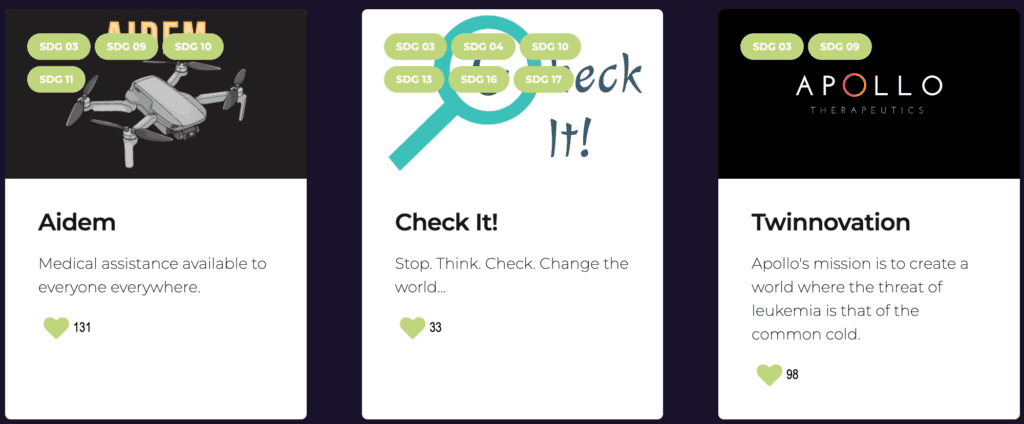 Projects like this that are being developed by young changemakers is exactly what we are striving for at Moonshot Pirates. It makes us incredibly proud to see our pirates come up with such amazing ideas and work hard on making them become a reality and a feasible project. Together we can make this world a better place! 💪🏼