What an epic adventure! The first-ever Shape the Future Challenge is over! A whole month of epic sh*t has passed and 81 amazing projects have been developed as a result. So many mentors have been blown away by your solutions, pirates. No matter if you made it to the finals or not, know that you've made a huge difference already and contributed positively to the world: Together, we have moved one step closer to solving the challenges that lie within mobility today. We are super inspired by all participants, and we would have loved to take everyone to Silicon Valley, but let's take a closer look at the winners of the Shape the Future challenge…
And the winners are …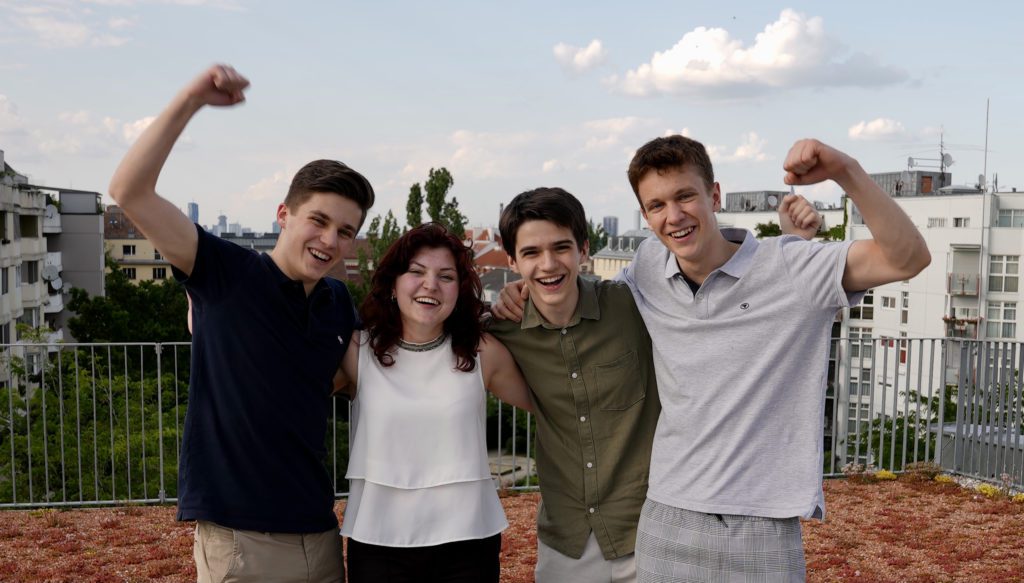 A huge round of applause for team Autopreneurs! Four young changemakers from Austria – Lilia Gerber, Oliver Sommer, Tobias Lendl, and Luis Kalckstein, did an amazing job developing and pitching their idea.
Based on video streams of traffic cameras, their prototype AI can assess road risks, which helps operators take action before an accident happens. The system can be used globally by emergency responders to promptly respond to accidents, without the delay of emergency calls – hereby we can save tens of thousands of lives. Furthermore, traffic congestion can be proactively prevented by implementing dynamic speed limits or suggesting detours with digital displays on the road. This prevents congestion collisions and protects our environment. By leveraging the collected data, their AI can support future road construction by identifying road designs contributing to higher accident rates.
'ROAD SAFETY – DRIVEN BY AI'
According to the WHO, road accidents cause approximately 1.3 million deaths each year. In emergency situations like this, every second is crucial for first responders. However, for more than 15% of accidents, emergency calls are made more than five minutes after the accident. Roughly 10% of road fatalities are attributed to this delay. Additionally, the mile-long traffic jams resulting from these accidents are prone to notorious rear-end collisions and also pollute our environment with CO2. That is where the AI software from team Autopreneurs steps in. With their real-time data, they can immensely contribute to better road safety, and save thousands of lives.
Interested to learn more? Watch their pitch video here:
These four changemakers from team Autopreneurs, together with Team Loop who won the Challenge last year, will join the Moonshot Pirates team on an unforgettable trip to Silicon Valley this autumn where they will visit companies such as Meta, Pinterest, Google, and Apple, and the campuses of Stanford University and more.
At this point, we want to thank our main partner Volkswagen Group for making this adventure possible! Also, we want to thank our partners Asfinag, Silicon Valley Inspiration Tours, Tata&Friends, Maresch&Sturm, and Talent Garden Austria. Thank you all for your support!
Looking Ahead
Every setback is a chance to grow and to catapult oneself into the future. Even though some of you didn't win the Shape the Future challenge, you hopefully learned a lot, had tons of fun, and made many new friends. Life is a journey, a playground, an adventure. Be proud of yourself for coming so far and don't stop working on your amazing ideas towards a better world!
How to do that? The challenge might be over, but you're now part of a global community of pirates and young changemakers. That means you can:
Reach Out to Mentors: To continue working on your project and if you still need some guidance – contact our network of mentors. They are here for you! Just reach out to them if you need additional support.
Look out for the next challenge: The Shape the Future of Mobility challenge was just one of many challenges happening in the near future. We are soon launching more challenges with different topics, so if mobility wasn't quite your interest, stay tuned! We are sure that there will be something for everyone!
Continue journeying with us: A community only exists through its members, and we're grateful for each and every one of you to be part of our global movement of future-oriented talents and young changemakers.
Never stop rocking, Pirates! You did amazingly well and we can't wait to see what happens next with you and with your ideas.