Apple, Google, Tesla, Meta, Adobe, Yahoo, eBay, and hundreds of start-ups. The list of companies that are located in Silicon Valley goes on and on. It is often said that Silicon Valley is the home of innovation, tech, and start-up development. Coming to Silicon Valley and funding a successful start-up sounds like the dream, but how much truth is there to it? Together with the winners of our 2 #beapirate challenges, we traveled to San Francisco and Silicon Valley to dive into this world and find out more about the "Silicon Valley Mindset".
The 2 Winning Teams and Their Ideas
The pirates who got to experience this amazing trip to San Francisco and the Silicon Valley worked really hard to get here. They won the #beapirate challenge and proved themselves amongst many other teams. The missions of their projects are innovative, feasible, and address the biggest global challenges. We are very proud to have pirates coming up with such amazing ideas to make the world a better place. So let's first have a look at the projects that won the Silicon Valley Tour!
Team Terrashift – Winners of the #beapirate challenge 2020
The project of Team Terrashift tackles agricultural poverty and global hunger through our affordable, eco-friendly, and mechanical device designed to improve the work efficiency of farmers by reducing manual labor whilst increasing crop yields.
Learn more about Team Terrashift here!
Team Firefly – Winners of the #beapirate challenge 2021
With global warming affecting the world's climate, wildfires are increasing in both frequency and intensity. Yet, the technology used to fight and manage wildfires hasn't changed since then. It is unsafe, ineffective, and unsustainable. Project Firefly is an innovative approach to fighting wildfires that uses autonomous planes and drones to reduce the number of people needed in dangerous wildfire zones. Autonomous planes will be used to put wildfires out using current techniques, while drones will use vortex cannons to contain them and prevent them from spreading.
Learn more about Team Firefly here!
Insights From Companies and People Who Are Located in Silicon Valley
The concept of the Silicon Valley Inspiration Tours is to spend 5 days diving deep into the Silicon Valley spirit – meeting and connecting with amazing people, visiting companies that work on innovation and new technologies, and soaking up the "Silicon Valley Mindset".
We had the opportunity to visit companies like
PlugandPlay – an accelerator for start-ups in different fields
Luum – making eye-lash extensions with the help of robots
Amazon Books and Amazon Go – the future of shopping without having to queue up at the check-out
b8ta – a space for shoppers to experience the latest products out-of-the-box
Circuitlaunch – a makerspace for start-ups to develop new technologies
propelland – a global strategy, design, and engineering firm helping companies transform and grow designing products, services and experiences
educational sites like Stanford University and the University of Silicon Valley
Meta and Apple Park Visitor Centers, and more.
Apart from these companies we also connected with a bunch of like-minded people – data scientists, brand analysts, product designers, innovators, investors, and CEOs of all kinds. They all were open-minded, met the pirates on eye level, and were open to interesting and thought-provoking discussions.
Of course, there was also time for some tourist visits – what would a trip to Silicon Valley be without visiting the Golden Gate Bridge and enjoying the view at Twin Peaks 😉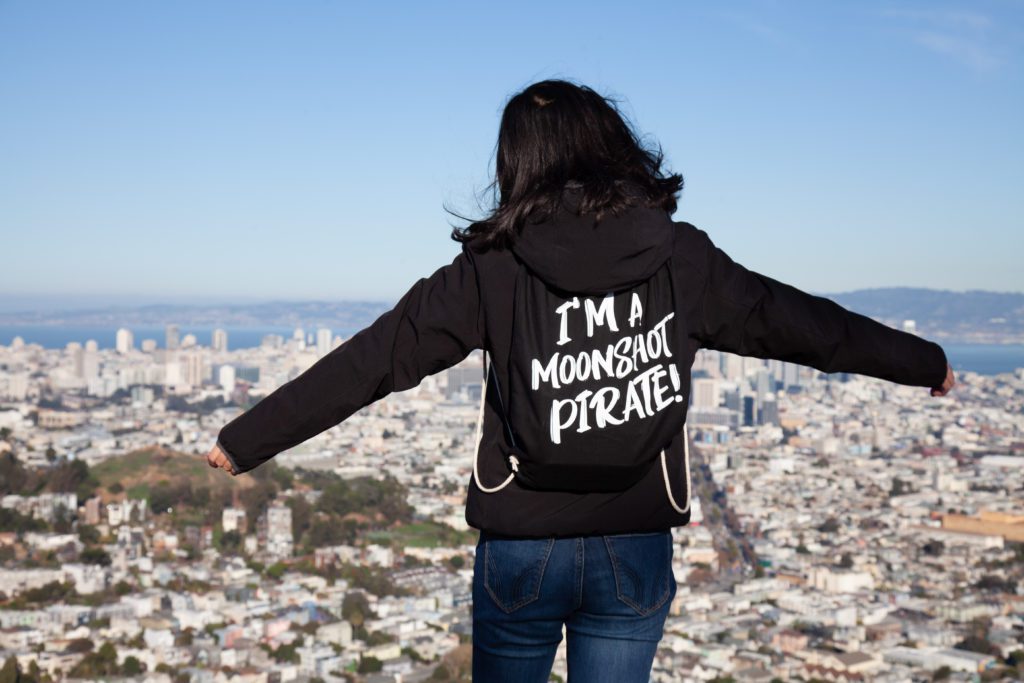 So you can be sure that we had a lot of opportunities to get our heads in the "Silicon Valley Mindset" – but what exactly is that?
The "Silicon Valley Mindset"
By listening and talking to all of these people and companies who are located in the Silicon Valley area, you quickly get a feeling of what they all have in common. They share the same mindset, think innovatively, and seem to be ahead of our time. They think like each other and understand all of the challenges and opportunities that young people and young companies might have and how they can solve them. In short, this is what the "Silicon Valley Mindset" involves:
being open-minded – they are curious and don't judge a book by its cover, everyone is interested to meet you, no matter the age or where you are from
strong sense of community – travelling to the valley, you immediately get a feeling of community and being connected to everyone else there
being taken seriously even if you are not "someone" – these people do not care whether you are aged 17 or 65, they know that everyone has something to tell and they can learn from it
not afraid of failure – we often think failure is something bad, while in Silicon Valley it is considered gold because you will never learn as much as from your own failure
they want to make the world a better place – they see the world's greatest problems and instead of freezing out of fear, they take action to do something against it
hands-on mentality – they don't get stuck on a task forever, but just start building something and getting it out in the world as fast as possible, even if it is not perfect
If you are interested in learning more about the Silicon Valley mindset – read on here!
Key Takeaways for Your Own Mindset
You don't have to move to Silicon Valley to be successful, but it helps to get your mind in the Silicon Valley spirit and learn from the mindset that most people have over there. Here are some key takeaways:
be curious – don't be afraid to ask a lot of questions, it means that you are interested and listening
never stop learning – there is unlimited knowledge out there, keep up with the time as things are changing as fast as never before
just do it attitude – you don't need a perfect prototype or product, just throw it out there and see what happens
don't be afraid of failure – you can only grow from it
What Comes Next
Now that you read this article and learned all about the Silicon Valley mindset, you might think: WOW I need to experience this myself. Well, we have good news for you; we have another #beapirate challenge happening next year! So gather an awesome team, find an innovative idea, and win the challenge! We can't wait to experience this again with the next group of winners!
Last but certainly not least, we want to give a huge thank you to Niki Skene, one of our mentors and life-long advisors, who started the Silicon Valley Inspiration Tours and gave us the opportunity to share this amazing experience with our pirates. Without you, this would not be possible! 💪🏼