Last month, the world's nations came together in in the climate conference in Glasgow to discuss the climate challenge. The name of this climate conference was COP26. The goal of the conference was to agree on strategies to ensure that the world doesn't get any warmer than 1.5 degrees. For 10 days, the nations debated and negotiated. The summit in Glasgow was meant as the follow-up of the Paris Climate Agreement of 2015, and quite a few agreements were closed, but not enough to save our climate, says climate activists and experts.
This is what they ended up agreeing on:
Phase down of coal as fuel
Spreading of green technology
Halt & reverse of deforestation
Funds for global green transition
Let's look at these in more detail (if you're super interested, you can also read the agreement here).
Climate Agreements of the Summit in Glasgow
Keeping the Earth's temperature below a rise of 1.5 degrees might sound like a small task, but it is actually massive. Every nation needs to do its part in order for us to reach this goal.
Carbon emissions need to decrease massively, meaning fewer cars on the streets, more electric powered transportation, and fewer airplanes.
Our consumption needs to be reduced, meaning buying fewer new things, recycling more, and consuming more sustainably.
Fossil fuels need to be substituted with sustainable energy sources completely.
Forests, flora and fauna need to be treated with respect and given room to thrive.
and so much more.
These are not actions easily implemented. They require big changes to the infrastructure, to the national and international politics, and to our thinking. The nations coming together at the climate conference in Glasgow were all aware of this, but not all nations were able to commit to these requirements to the same extent. Nevertheless, the agreements of the climate conference above were finalized and signed in the final paper of the summit. So let's look at what they mean individually.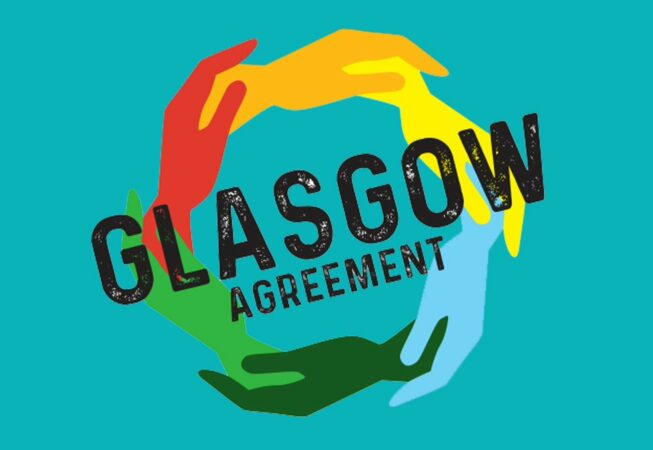 Phase Down of Coal as Fuel
The goal of many nations attending the climate conference was the phase-out of coal as a fuel. However, a couple of countries are so dependent on coal that they insisted on the phrasing phase down, weakening the goal a little. This might be a little disappointing for some, but this is actually the first time that coal has even been mentioned in a climate conference paper, so it is, to some extent, a major achievement that 190 countries have agreed to decrease their use of coal.
Spreading of Green Technology
The future is technology-based, so it is essential we make the shift to green technology as soon as possible. One major area in this field is making the switch to electric cars. During the COP26, 20% of the global car market has committed to phasing out petrol cars by 2035. At the same time, the development of green technologies has also received a lot of funding in order to make these the cheaper choice.
Halt & Reverse of Deforestation
For way too long already, countries have cleared rainforests and other green spaces for the sake of planting crops or building houses. With nature being the one element that can absorb CO2 and provide us with clean air to breathe, it is suicide to deforest the planet. Having 137 world leaders commit to halt and reverse forest loss and land degradation, is a major success. 91% of global forests are covered by the COP26 agreement.
Funds for Global Green Transition
Many developing countries will have a hard time making the green transition, while at the same time being the most exposed to the consequences of climate change. For that reason, billions have been collected to help developing nations adapt to climate change and reduce emissions.
What This Means for Us
One very essential outcome from the summit agreement is that all nations need to pull together in order to successfully make the green transition happen. The developed countries need to lend developing countries a hand, and COP26 showed an increased awareness of this responsibility.
The path towards electric vehicles and sustainable energies has also gotten a lot more clear. Although the nations didn't manage to say goodbye to coal completely, they took a big step towards it. The consequence will likely be:
more public and private transportation turning electrical
easier access to sustainable fuels for our homes
greater collaboration and fairness between nations
To end this article, here is a video explaining the agreement of the summit and what this might mean for our global future. Give it a watch if you want to dive deeper: