2022 is slowly coming to an end, and at this time of the year, I love to grab a good book and drink a cup of hot tea. I'm a huge fan of personal development books. It's the central source of my learning and personal growth, apart from people, conversations, and experiences.
So I asked my fellow team members to recommend a personal development book they've read this year that they enjoyed.
Maybe there is something cool for you among their favorite reads.
Anet's Recommendation: Skip the Line
Skip the Line is a practical guide to achieving your dreams – fast. This personal development book reveals strategies for shortening your path to success, including executing and scaling ideas, learning new skills, and harnessing fear to help you grow.
They say that to reach expertise, a person needs 10,000 hours of practice. But that would mean we must dedicate our precious hours to just one thing. And I, and I also believe many other people, find it difficult to find just that one passion. Because what if something changes, and along the way, we discover that that passion was not our passion? We have only one life, and I want to experience it all… don't you?
What I loved about this personal development book is that James challenges this concept by offering shortcuts to skip the line – read 10,000 hours. He offers many techniques to quicken the learning path, start new adventures, and learn and create faster. It's a super practical and easy-to-read book! It gives you immediately an inspiration to dive into something new and exciting.
Florentina's Recommendation: The Comfort Book
"Reflections on hope, survival and the messy miracle of being alive" – The Comfort Book by Matt Haig is a collection of short lessons learned in hard times and suggestions for making the bad days better. Drawing on maxims, memoirs, and the inspirational lives of others, these meditations celebrate the ever-changing wonder of life.
I recommend that this book always is on your bedside table. You can pick it up if you feel alone with your thoughts and need the wisdom and comfort of a friend. It is always a reminder that we can nurture inner strength and hope, even on days that seem the worst. Reading these short stories feels like talking to a friend, sharing thoughts with family, or meditating and finding inner peace – whenever you need it.
Kaya's Recommendation: The Culture Map
A few weeks ago, I read The Culture Map by Erin Meyer. It was recommended to me by one of our mentors. The book describes how different cultures act differently in terms of 8 metrics. It's super interesting and full of excellent examples and graphs to visualize the differences between the cultures. Here are some of my notes from my reading.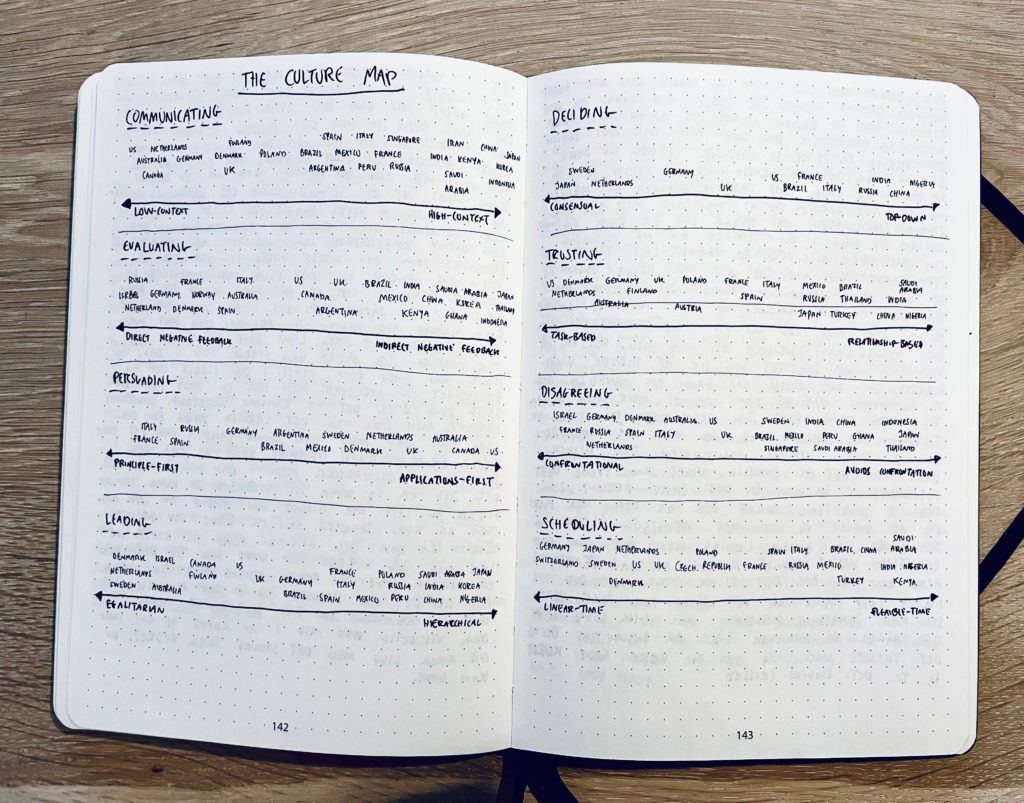 I think this book is very useful in the setting of our global community. It's easy to misunderstand or miscommunicate in an intercultural setting like the Moonshot Pirates community. Having an awareness of our cultural differences makes it easier to navigate such environments.
Marko's Recommendation: Greenlights
Greenlights is a beautiful journey through Matthew McConaughey's life. It's an unconventional memoir filled with raucous stories, outlaw wisdom, and lessons learned the hard way about living with greater satisfaction.
One quote stuck with me and defined my whole year: "Be less impressed. Be more involved." Often, we look at life events and see ourselves being distant. Who am I to do that? Who am I to be fortunate enough? Matthew's book opened my eyes to taking control of the steering wheel again and living life as I was born.
If you want to know why you should read more and get even more book recommendations from one of our mentors Caro Frank, read on here! What personal growth books have you read this year? Recommend them to a fellow pirate!