Actually, I just wanted to post a few book tips – as some of our pirates ask for them during our talks & webinars. And, hand on heart, my heart bleeds a little every time someone says that books are not their thing. No offense – everyone as they like. But still. Too bad. Because…
a good book is like a garden you carry in your pocket"
Not from me, but a quote that I find very true. Corona perhaps also makes that a bit more palpable than usual. Anyway – since early childhood, I have LOVED to read. Reading books. Not magazines or journals (since my teenage years yes, but) no, books. Gladly also huge tomes, preferably in paperback though – for me, the hardcover is too uncomfortable and bulky. And analog – sitting so much in front of screens, I am simply grateful for every little OFFLINE and analog reading time.
Why is that? Probably because I was very lucky to have not only parents but also grandparents AND great-grandparents living across the street who read to me regularly and extensively. In fact, I still remember it quite clearly: I'm sitting as a four-year-old toddler on the dark green sofa in the kitchen of my great-grandparents and (listening eagerly) could hardly wait to finally be able to read for myself. To be able to decipher these cryptic characters. Immediately. Without anyone having to have time for me. Or stopping just when it's most exciting.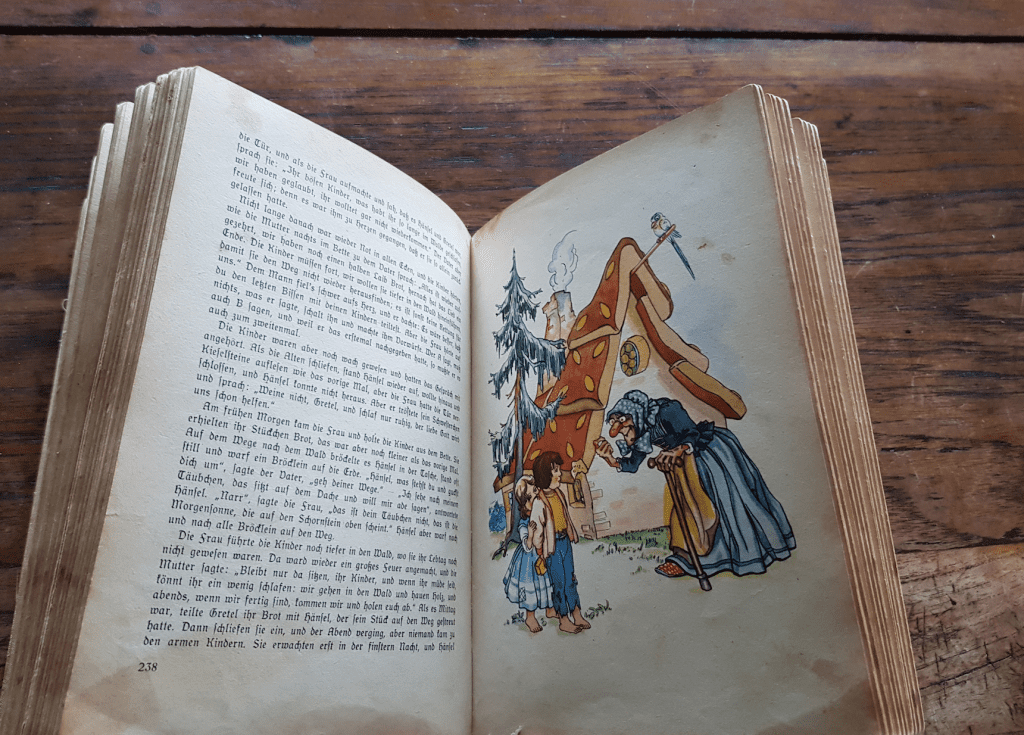 It all began with Grimm's fairy tales. I remember it like it was yesterday:
the "letters only" pages were boring, and as soon as grandma or grandpa turned to a page with illustrations, I was happy as a little snow queen.
Well, and then it started – I devoured everything I could get my hands on.
Classics of my childhood like Astrid Lindgren's "The Children of Bullerbü", "The Little Witch" by Preussler, Dickens' "Oliver Twist", Erich Kästner's "Emil and the Detectives" or "The Little Man" and Mark Twain's "Tom Sawyer" and "Huckleberry Finn" are still on my shelf today – I never had the heart to give them away. And believe me, I've moved a lot…
In the small town, we moved to a little later, there was a public library-bus that came once a week – I read and read and read. Even Simmel and other "treasures" from my parents' living room shelf were not safe from me. Are there still "Reclam notebooks" at school today? For me at that time, they were an ingenious way to read all-time classics of world literature for very little money, even apart from sometimes tedious compulsory reading for German classes: Shakespeare, Goethe, Schiller, Lessing… Moreover, they took up little space when traveling. Ok, fair enough, nowadays we don't have this problem anymore with e-books anyway…:) Whereas – see above…
Later I devoured French (Camus, Flaubert, Montesquieu, Sartre…), Russian (Dostoyevsky, Tolstoj, Aitmatov…) and English (Dickens, Eyre, Austen, Brontë…) classics up and down – there are so many incredibly great books, whole worlds open up, seriously. However – so that no wrong impression arises here – I also read Bukowski, Stephen King (Omg – with "It" I always needed a few pages of other reading before going to bed, so exciting I found it at that time… "The Shining", "Rosemary's Baby" – great, whether you know the movies or not) or other books simply for entertainment, be it thrillers or love stories. Across the board. Sometimes even the more trivial, the more I was challenged in my studies or job…
Maybe some of you also love science fiction movies? Then you might really like the work of Stanislav Lem, Philip K. Dick, or Douglas Adams. And audiobooks might be a good start if you're not (yet) into reading…?
If you really don't feel like reading at all – ok. I don't want to convert anyone here (although…;). But if you have even the slightest theoretical interest, but haven't found a good start yet: try J. D. Salinger's "Catcher in the rye" or, if german-speaking Wolfgang Herrndorf's "Tschick" (no worries or false hopes – has nothing to do with the Austrian word for a cigarette…). Easy reads with a lot to say.
My Book Recommendations
More connected to Moonshot Pirates and our topics – here are a few of my "best reads" into the direction of Mindset and Business Life:
John Strelecky & Bettina Lemke – Big Five for Live: What Really Matters in Life (awesome – Tom Hillebrand just mentioned it in his webinar, yay).
Reinhard K. Sprenger – Radikal Digital (For you as digital natives most of it should be crystal clear, but perhaps not entirely uninteresting for you to understand better what digitalization holds in store for older generations – your parents, teachers, bosses – in terms of challenges, news and opportunities).
Yuval Noah Harari – Short history of mankind
Yuval Noah Harari – Homo deus
Yuval Noah Harari – 21 Lessons for the 21st Century (have been mentioned 50x on my favorite #OTWTNW podcast – and yay, absolutely worth reading)
Stephen R. Covey – The 7 ways to effectiveness
Jack Trout – The power of simplicity
Richard Templar – The rules of Life
Richard Templar – The rules of Work
Richard Templar – The rules of Management (I read these books a long time ago, they gave me a lot of good tips very early on – and Covey is also recommended by many even nowadays – go for it!)
Robin Dunbar – Grooming, Gossip, and the Evolution of Language (a greatly written book which is not only quoted by Yuval Noah Harari – very readable and eye-opening!)
Manfred Spitzer – Digital Dementia (very critical but in my opinion EXTREMELY important to know about for everybody, not only for (future) parents…)
Robin S. Sharma – The Monk Who Sold His Ferrari: A Parable of Happiness (would never have bought a book with that title – but it was a recommendation of a very smart person – I read it and was quite impressed)
Walter Isaacson – Steve Jobs (as a brand enthusiast with a great affinity for good design, merciless customer-centricity, and love for details, I see Steve Jobs as someone who did by far not everything but a huge amount of things very right – and if you want to know why Apple has been so successful (at least so far and for so long), you should really read this biography (it's better than the one of Karen Blumenthal, which of course is very subjective…)
Viktor E. Frankl – Man's Search for Meaning (a classic on many book recommendation lists – and yes, you can learn a lot from it)
Finally, a few of my favorite writers with exemplary works – but also (more or less) all others of them will be good reads. Off the cuff – for pure reading pleasure – without any educational claim (except for vocabulary and literacy, of course):
T. C. Boyle – América
Dave Eggers – The Circle
J. D. Salinger – The Catcher in the Rye
J.R.R. Tolkien – The Lord of the Rings
Joanne K. Rowling – Harry Potter (original version, no translations!)
Douglas Adams – Last Chance to see
Haruki Murakami – Naoko's smile
Enjoy – eventually you'll give reading a try – it's really worth it!
Looking forward to feedbacks, additions, suggestions and / or questions. And one BIG request: support a bookseller in your area – most of them already have good online stores & services (and from now on even more so…) – Thanks!
Cheers, take care – and READ a much as you can!
Caro