All of us have dreams and goals we hope to achieve. Yet for some reason, only some of us actually go on the journey in order to try to reach them. Why? What holds so many of us back from even trying? What do we need to achieve any goal we desire?
According to Jessica Emily, founder of Moonshot You, the answer to that question is found in two central aspects:
Our Mindset: do we have a fixed or a growth mindset?
Our Self-belief: do we believe in ourselves and our abilities, or do we not?
To explain the connection between those two, let's have a look at this chart.
The chart is divided into one axis describing your mindset and one describing your level of self-belief.
How to shift your thinking
Step 1: Find out whether you have a fixed or growth mindset. Either have a look at this table to see what resonates with you or take Jessica's quiz to figure it out. If you already have a growth mindset, great! If you're still getting there, give yourself the time to practice thinking differently.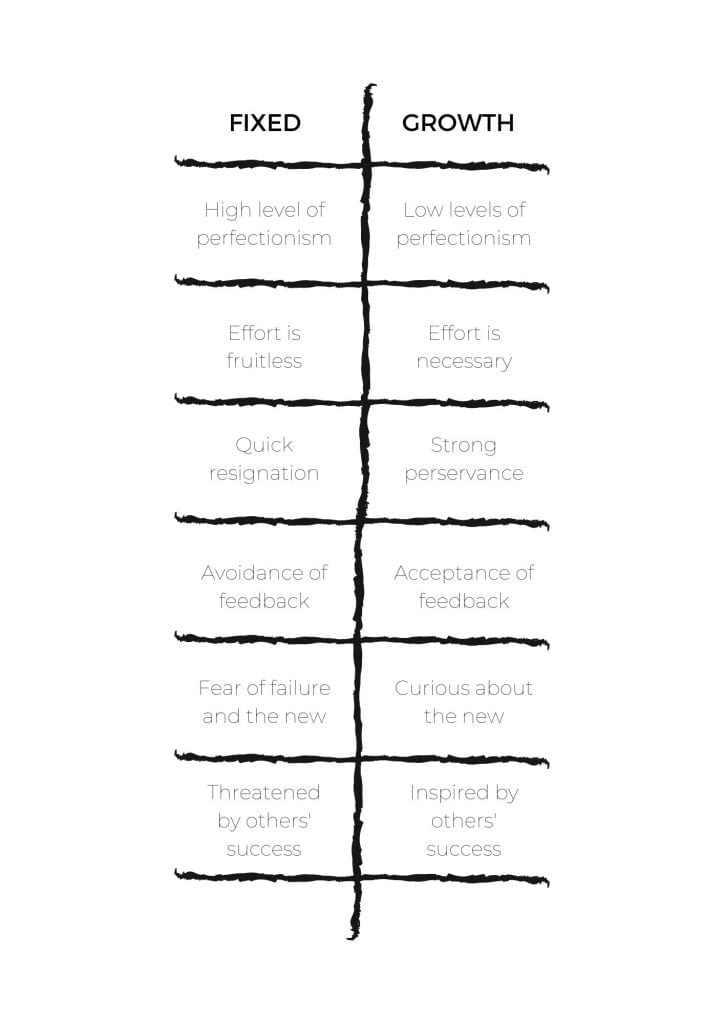 Step 2: Explore how much you believe in yourself. Believing in yourself means:
being able to make choices and trust your judgments.
considering yourself to be self-worthy and equal to others.
believing that you are valuable and that others enjoy spending time with you.
believing in your capacity to solve problems and adjust to failures.
Does that sound like you, or is something missing?
Step 3: Relate these two qualities to a concrete goal by asking yourself the following questions:
What do you want to achieve?
Do you believe that you can?
Why might you not believe that you can?
It is very normal to doubt ourselves. Most of us suffer from the imposter syndrome, not believing that we deserve what we have achieved.
Step 4: Once you know your doubts, create a plan of manageable action-steps that will help you build up your confidence and self-belief. Jessica describes this as creating mini-wins.
For example, if your goal is to eat healthily, mini-wins could be not buying chocolate when you go grocery shopping or eating six greens everyday. These are small manageable tasks that you can do to prove to yourself that you actually can reach your goal – baby step by baby step.
What are you waiting for?
Reaching one's goals always begins with one's mindset. This method that Jessica shared in her webinar can help you develop a mindset that will improve your life immensely. If you want to learn more about it and Jessica's personal story, watch her webinar below. If you want to work more closely with Jessica and receive direct advice from her, join our Peer Mentoring Program and get the chance to have her as a mentor for five incredible months.
About Jessica
Hey, I'm Jessica Emily A happy Monday kinda girl, Mindset Coach & Entrepreneur who is dedicated to teaching you the tools to own your thinking and help you face the challenges of the world. I know first hand that in life anything is possible, even when it doesn't seem like it there is always a way. At 17 years old, I found myself living out of home, with no education, no home and no chance to succeed in life. Flash forward to just 24 years old and I was graduating University with a double major and 2 successful startups under my belt. Shortly after that, I experienced the other side to success, with going broke twice (once at 24 and again at 27) forcing me to start all over again. I've even failed on live TV across all of Australia, hosted a Youth Day with an expected turn out of 4,000 people, but instead had 311 walk through the door, deeming it what appears to be a complete failure.