Different people start their businesses for different reasons. Some like to be called entrepreneurs. Sound neat, right. 🙂 Some do it out of the desire to make a lot of money. Some simply don't want to report to anyone else. All legit reasons. But I believe there is the single best reason to become an entrepreneur, which is tackling real problems worth solving. As you are still reading this, I like to believe we have something in common. We care about the things we create. We know that being an entrepreneur is not about the final destination, but about the journey and the impact, we make along the way. And as we all know, there are gazillion ways of how one can make an impact in today's world. We just need to find that one problem worth solving.
And from my own experience, once you find a real problem that you are passionate about – nothing should stop you to just go for it. My advice when that happens? Get to work, surround yourself with people who support, be prepared to make and learn from mistakes along the way, and never give up, no matter what!
Since sharing makes the world better, in this article, I'd love to focus on the 17 Sustainable Development Goals and share with you some interesting solutions from across the globe. Solutions that focus on solving real problems.

SDG #1 – END POVERTY in all its forms everywhere
SDG #2 – ENSURE FOOD SECURITY & GOOD NUTRITION
SDG #3 – ENSURE HEALTHY LIVES and promote well-being for all at all ages
SDG #4 – PROVIDE QUALITY EDUCATION & Lifelong Learning for all
SDG #5 – EMPOWER GIRLS & WOMEN and Achieve Gender Equality
SDG #6 – ACHIEVE UNIVERSAL ACCESS TO WATER AND SANITATION
SDG#7 – SECURE SUSTAINABLE ENERGY for all
SDG#8 – CREATE JOBS, SUSTAINABLE LIVELIHOODS AND EQUITABLE GROWTH
SDG#9 – BUILD RESILIENT INFRASTRUCTURE, PROMOTE INCLUSIVE INDUSTRIALIZATION & FOSTER INNOVATION
SDG#10 – LEAVE NO ONE BEHIND AND TREAT EVERYONE EQUALLY
SDG#11 – PUT SUSTAINABLE DEVELOPMENT OF CITIES & COMMUNITIES AT CORE
SDG#12 – KEEP BALANCE BY MANAGING & CONSUMING NATURAL RESOURCES SUSTAINABLY
SDG#13 – TAKE ACTION TO COMBAT CLIMATE CHANGE AND IT'S IMPACT
SDG#14 – KEEP OUR SEAS CLEAN
SDG#15 – PROTECT, RESTORE AND PROMOTE ECOSYSTEMS AND BIODIVERSITY
SDG#16 – BUILD PEACE AND EFFECTIVE, OPEN AND ACCOUNTABLE INSTITUTIONS for all
SDG#17 – CREATE A GLOBAL PARTNERSHIP BY TURNING SDGs INTO A UNIVERSAL AND COLLABORATIVE PROJECT
1MillionStartups supports startups and entrepreneurs, who are dedicated to solving real-life problems and achieving the UN Sustainable Development Goals (SDGs). They connect and support SDG startups from all over the world so together we can create a better world!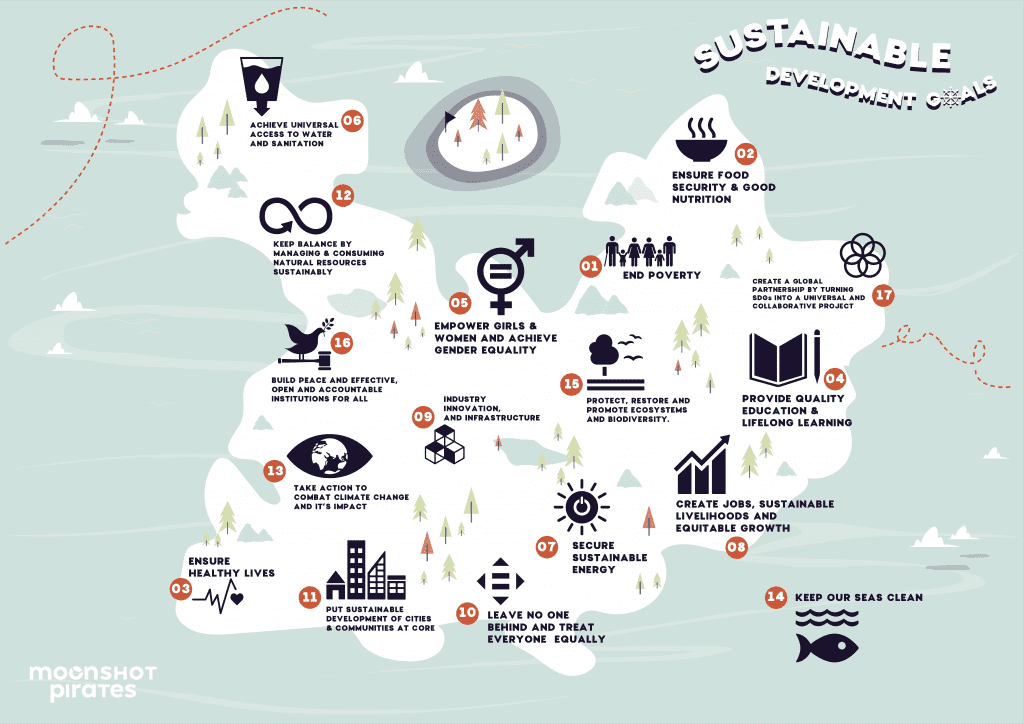 ---
These are just a few of many organizations that found a problem worth solving and decided to do something about it. Entrepreneurs & startups across the world are creating solutions to real-life problems and the grand challenges of our time. But as we all know, there are gazillions problems worth solving. To sum up, now it's up to you, pirate! Are you ready to take action and make a positive difference in the world?