The greatest leaps of change are usually due to disruption. Either in the form of a world event turning normality on its head or in the form of a changemaker taking action.
To start off, here are two definitions of the word disruption.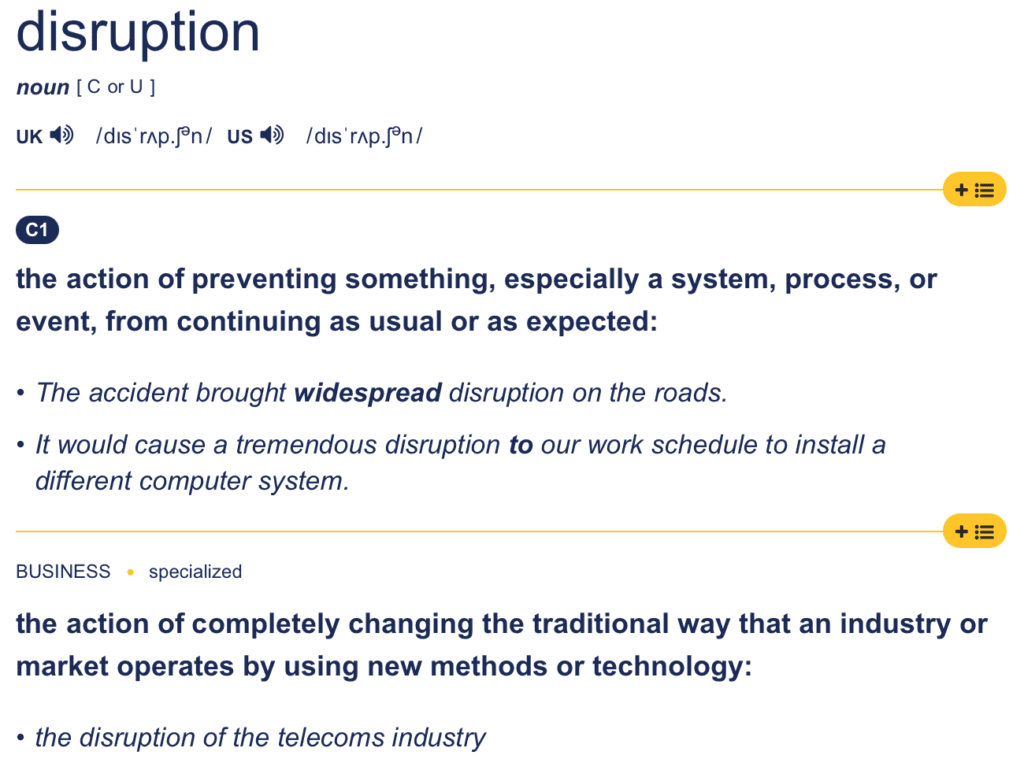 Disruption is the engine of global development. Humans are very comfort-seeking creatures who wouldn't necessarily change anything if they can stay within their comfort zone and stick to the status quo without facing bad consequences. However, where would we be without disruptions? Probably still somewhere in medieval times. So although disruption can be scary, uncomfortable, and head-spinning, the world needs it in order to move forward.
What Is a Disrupter?
The question now is: Can you help the world develop into the future by bringing about disruption yourself? The answer to that question is: YES! That's the task and purpose of a disrupter. She or he sees where the future is heading, where the potential for disruption is located, and takes action to let the disruption happen.
Before we dive into how you become a disrupter, let's first try to define the matching qualities to see what makes a disruptor out.
A disrupter:
approaches the world with curiosity and questions of 'How could this product, process, system, etc. be improved?'
stays on top of technological advancements and global trends
is unafraid to take risks and celebrates uncertainty
thinks creatively and critically – the world is a playground and nothing is set in stone.
Many serial entrepreneurs are disrupters at heart. They have learned to see a market's potential for disruption and invest their time and money in improving the offers of that market.
How You Can Master Your Disruption Mindset
No one was born a disrupter, but everyone was born with the potential to become one. Here are a few things you can do in order to develop your disrupter mindset and skills:
Ask yourself once a day, what was something you experienced today that annoyed you, left you dissatisfied, or could need an improvement? It can be big and small things. The point is to get into the mindset of constantly seeing areas that you could potentially disrupt.
Expand your network and interact with diverse groups. Different perspectives and worldviews will help you see the world differently and come up with ideas of how to disrupt it.
Talk to people about what they're dissatisfied about in order to discover bigger trends.
Start, explore, learn, repeat – the more you try out, the better you become at disrupting and building solutions with impact.
Disrupters are not daunted by uncertainty; they take advantage of it to help shape the future.
Why You Need to Be a Disruptor
We live in uncertain times with an uncertain future ahead. Change is coming at us at an extremely fast pace and we need to be able to adapt quickly if we want to have success in the future. It is especially young people who can adapt easily and bring change to our society. If you ask yourself why, you can find out more about it here. In addition, as a pirate, you also probably have amazing ideas for how the future should look. So if you practice thinking like a disrupter, you'll find ways to turn those ideas into action and make the world a better place.